Previous (post-Renaissance)
A Gallery of Intact Penises in Art
5. Modern (post-photography)
Henry Holiday's working drawing for "The Landing" from "The Hunting of the Snark" by Lewis Carroll (1876) was presumably intended for his eyes only...

...but the Bellman's penis is finely detailed.

"Just the place for a Snark!" the Bellman cried,
As he landed his crew with care;
Supporting each man on the top of the tide
By a finger entwined in his hair.

Thomas Eakins'
photograph of
his close friend
Samuel Murray,
ostensibly for
artistic study.
Picasso submitted this pencil drawing of a heavy-thighed man to enter the Barcelona School of Fine Arts in 1895 when he was 14.
A jovial minotaur and man in Picasso's 1933 "Bacchanale" share a post-coital drink.

The penis is drawn very simply.
Museum of Modern Art, New York
John Singer Sargent
"Nude Study of Thomas E. McKeller" (1917-1920)
Museum of Fine Arts, Boston
Henry H. and Zoe Oliver Sherman Fund


Jergen Gundmundsen-Holmgreen's
Josef (1937-9) is normally proportioned
- Statens Museum for Kunst / National Gallery of Denmark, Copenhagen
The model for Grant Wood's 1939 "Sultry Night" is believed to be his friend Eric Knight (1897-1943), who later wrote "Lassie Come-Home". Wood (1891-1942) is best known for "American Gothic". This print could not go through the mail, so only 100 were made. He also painted this scene, but destroyed the left 1/3 after it was rejected by an international exhibition.
The Vigeland Installation (opened 1940) in Frogner Park, Oslo, Norway, comprises 212 granite and bronze sculptures of nude human figures at all stages of life. All but a few of the male figures are shown as intact. The wrought-iron gates of the installation also portray nude figures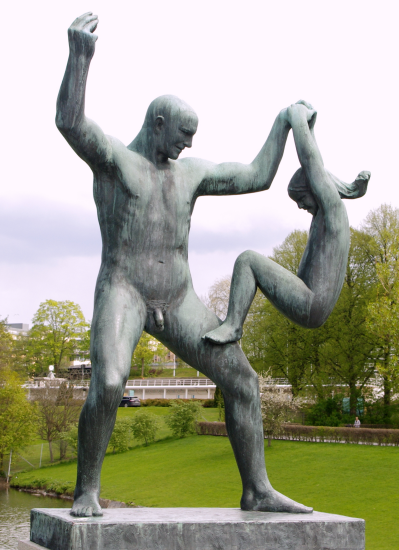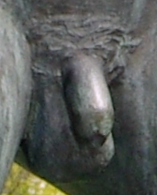 - images from the blog of J Schaef, "Pull up a chair"


Vigland's few cut men are generally older
Gustav Vigeland (1869-1943)
Despite the roughness
of the stone, Adam's
foreskin and
acroposthion are
clearly visible.

"Adam and Eve" by Eric Gill (1882-1940)
Although Gill's dancers are
stylised and attenuated, the
man's penis and foreskin
are realistic and detailed.

"Dancers" by Eric Gill
Australian artist Norman Lindsay (1879-1969) seldom portrayed male nudes but it was this 1929 "Self Portrait", hunched between a satyr and a voluptuous woman, and especially the satyr's (generously foreskinned) penis, that got him into so much trouble he went to live in the USA in 1931.
Dali often used
sexual themes
and phallic images,
but seldom showed
an actual penis.
This one clearly details
a prominent
acroposthion.

Salvador Dali (1904-1989), Enfant Sauterelle
(Grasshopper Child), 1933
Etching and drypoint, Wadsworth Athenaeum
Gift of David Austin
| | |
| --- | --- |
| | While Dali was not much interested in the details of male anatomy (compared to, say, finger and toe joints), Newton's cursory penis is nonetheless complete. |
"Hommage a Newton" 1969, Espace Dali, Montmartre
"Oedipus" (1933)
by Keith Vaughan (1912-1977)
Keith thought that the omens at his birth were auspicious: "Apart from being a healthy baby it was observed that my penis possessed a loose and easily retractable foreskin which was not considered necessary to circumcise according to the custom of my class. For this piece of good fortune I have had many occasions to be grateful."
- "Keith Vaughan: his life and work" (1990)
by Malcolm Yorke
London: Constable, p24
Click on the images for larger




Illustration to Genet's 'Querelle de Brest''

"Jeune Homme Nu"
(He is clearly retracting his foreskin to wash it, and he isn't complaining about the tedium of that.)
Jean Cocteau (1889-1963)
M. C. Escher's intiguing etchings routinely show any nude males as intact, such as this Buddha-like figure (in Mosaic II, 1957) ...
... and not only the optimists emerging from this frieze (Encounter, 1944)



but also, as Escher's working drawings show, ...

... the pessimists.


| | |
| --- | --- |
| | Paul Cadmus (1904-1999) finely details his model's penises |
"Victory of St Michael" (1958)


The postcards don't show you this:
Cathedral of St Michael, Coventry, UK
Epstein, being Jewish, would have little experience of foreskins and this (with its folds and lack of a "spout" c.f. the fountain in the house of the Vetii), is not typical. He frequently attracted controversy for his nude male sculptures. One, "Day", was allowed to remain on the St James Street Station, London, only after he took 1.5" (4 cm) off its penis. This may explain a report that one of his statues was "circumcised". His other work shows males as intact.
"Rush of Green" (1959) , South Carriage Drive, Kensington, London
Sir Jacob Epstein ( 1880-1959)

"The New Adam" by Harold Stevenson is huge
(8' x 39', 2.44 m x 11.89 m)
wrapping around the viewer on nine panels.
The reference to Michaelangelo's is clear,
but this is no boy.
The model was Sal Mineo
the Solomon R. Guggenheim Museum
New York
David Hockney's 1967 illustration to C P Cavafy's poems stresses line, rather than shading, giving a flat look to the model's penis, though the sulcus and acroposthion are indicated.
Conversely Francisco LÚpez's 1973 nude torso is finely shaded, emphasising the penis' dorsal vein.


"Archilochos Alone"
by Michael Ayrton
(1921-1975)


"Actor (Richard)", painted in 1979
by R. B. Kitaj, has a "peeper",
a shorter than average foreskin.
Josep Maria
Subirachs, 1987

The crucified Jesus on the "Passion" faÁade of Sagrada Familia, Barcelona, is intact,
probably not to deny his Jewishness, but because the sculptor and the audience could not
imagine him being different from themselves. (Another famous nude Jesus,
by Michelangelo, is in Santa Maria Sopra Minerva, Rome, but his penis has been vandalised
and is now covered. It was almost certainly portrayed as intact.)
While the character of Gollum in the film of The Lord of the Rings is almost entirely computer-generated and wears a tiny loincloth that doesn't seem to hide much, oversized models were used by Weta Workshops to help make him so lifelike, and a picture of one in Cinefex magazine shows the artists conceived him as intact, as is a maquette of the Cave Troll in the Lord of the Rings exhibition - as of course they should be (but it wouldn't be so certain if they were made in the US).
Picture to come.
Mural in the Kaiserbruendl sauna, Vienna,
by Stefan Riedl (Genannt Triebl), one of several
that all (of course) portray intact men.




English artist John Carter
(1927-2004) takes
intactness for granted
in his Big Catch


This "Reclining Middle-Aged Man"
by John Willcocks (1934-2021)
has a clearly delineated peeper.
Prometheus and the Wanderer Variation 23


Figure in a Psychoscape
Australian James Gleeson painted both intact and cut men in surrealistic settings ("Psychoscapes"),
apparently based on the models' own anatomy, even in mythological subjects.
Male genital cutting was in decline in Australia during this period, the 1950s-60s

- James Gleeson (1915-2008)




Pierre (Commoy, 1950- ,
photographer) et Gilles
(Blanchard, 1953-, painter)
create highly processed
images, mainly of erotic male
and/or religious subjects.
Their "Matador (Fernando Leonne)"
(1999) sold at Christie's
to a private collector in 2011
for Ä37,000
(Ä41,136 in 2021 or $US46,554)
but in 2015 it sold again for only
£18,750 (£20,539 in 2021 or $US27,248)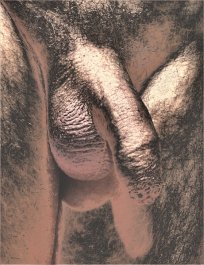 Angela's Men is a gallery
of treated photographs
of intact men, many closeups.
Treatment is commonly a metallic finish,
such as copper.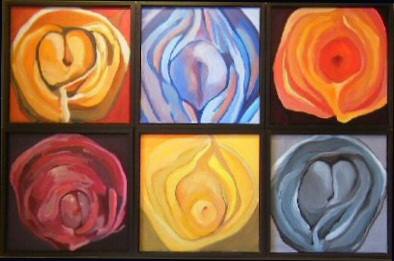 Paul Davis Jones of Phildelphia has painted a series
of extreme closeups of foreskins,
"the Intact Project", coloured to give an abstract, rose-like effect.
He writes,
"AS EACH FORM EMERGED ON THE CANVAS,
THE JOY OF CREATION BECAME ANGER
AS I ASKED MYSELF WHY ANYONE
WOULD CHOOSE TO DESTROY THIS UNIQUE
AND BEAUTIFUL PART OF A MALE'S BODY."
Jonathan Yeo painted two portraits of entrepreneur Ivan Massow three months apart, during which Massow lost three stone (19 kg) and grew a beard.
In his book "Uncut: the natural history of the foreskin", Sherwin Carlquist includes a sequence of Annie Liebowitz-like portraits of intact penises in natural settings.
Photographer Dylan Ricci
likes to partially
conceal his models'
faces and genitals.
Max Patte's oxidised steel
"Solace in the Wind" stands
on the Wellington, NZ, waterfront.
Though undetailed, his penis shows
a corona covered by a foreskin
"Redemption Song" by Laura Lacey stands 3.3m (11 feet) tall in Emancipation Park,
Kingston, Jamaica.
"Event Horizon" by British artist Antony Gormley consists of four cast-iron and 27 fibreglass casts
of his own nude body, placed at ground level and poised on the edges of buildings.
It was exhibited in London in 2007 and in New York in 2010.
It may have taught the young man in the green sweater something he won't learn
at Touro College of Osteopathic Medicine.

Lost Horizon I in the Royal Academy of Arts, London, features 24 cast iron images (possibly from the same mould as ''Event Horizon'') of Gormley's own body. The London audience finds nothing exceptional about their intactness.
"Fallen Angel", Temple of Concordia, Sicily
"Blindfolded Icarus"
Polish-German artist Igor Mitoraj creates oversized mutilated
torsoes in classical style, but the males are in modern proportions.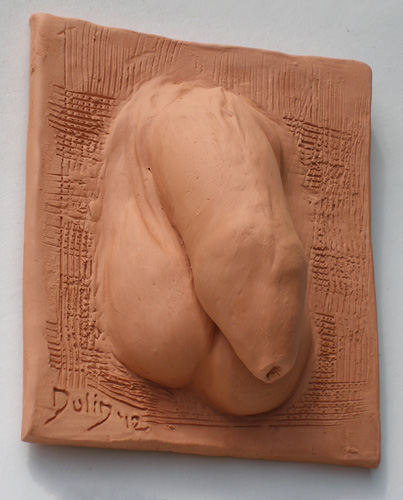 Maryland artist Michael Dulin uses terra cotta to illustrate the beauty of the intact penis.
"Lightning Strike"
2015
Untitled
(reclining male nude)
2015




"The Lesson (How To Be
A Man)"
2017

Philip Gladstone of Maine (1963- ) paints and draws largely allegories and self-portraits,
frequently nude and always intact.
Back to 1. Classical Antiquity 2. Pompeii 3. Renaissance 4. Post-Renaissance