"We feel fully warranted in suggesting
the wholesale circumcision of the Negro race"


Genital cutting and racism
Genital cutting has inevitably been associated with racism and stereotyping, because different cultural and ethnic groups have traditionally either all cut or all not cut their children's genitals, giving it a strong association with racial or cultural identity. It's hard to say which came first, the cutting or the identity.

"In that ye have brought into my sanctuary strangers, uncircumcised in heart, and uncircumcised in flesh, to be in my sanctuary, to pollute it..."

- Ezekiel, 44:7

This plays into the "clean/unclean" dichotomy: "We" are "clean". "They" are "dirty".

It is also common to stereotype out-groups as sexually irresponsible or insatiable, and one of the reasons for cutting both males and females has been to tame their otherwise unbridled libidos..
1889 J. M. Vandavel

An African-American doctor in Waco, Texas, J W Vandavel advocated male genital cutting for diseases no longer heard of - "tubercle [symptom of TB], phthisis pulmonalis [wasting away caused by TB], adenitis [swollen abdominal lymph nodes], carcinoma [cancer], scrofula [swollen lymph nodes of the neck], rachitis [rickets], venereal cachexia [weakness and wasting]...onanism [masturbation], early cohabitation, syphilis" - and for "the looks of the organ."

"The good such a law would bring to the people of this country, especially the colored people of the South land, where virtue is so slovenly and loosely worn by our women, morality so little valued and the marriage relationship so easily adulterated, or sullied, can be better appreciated by comparing the American races with the Sandwich Islanders [Hawai'ians]. It is said that one hundred years ago there were (400,000) four hundred thousand inhabitants on these islands, healthy, prolific and, in their peculiar way, prosperous; but since the importation and propagation of syphilis amongst that people, they have dwindled to (40,000) forty thousand.... " (panel 4)
(Dr Vandavel was apparently unaware that the Hawai'ian men were genitally cut.)

The editorial patronizes Dr Vandavel but endorses his internalized racism , and says he "makes a strong argument in favor of circumcision in his race as a prophylactic measure". (Language advisory: mentions use of the n-word. ult.= last month)
| | |
| --- | --- |
| | |
In the Kansas Medical Journal, "W.D.B." ignores the racial aspect of Dr Vandaval's proposition and thinks it would not be accepted in Kansas, but agrees with him about the dangers of "the elongated foreskin" and says "it would be well if about half our population were in the condition of the Chechemites when they were attacked by Simeon and Levi (Genesis xxxiv 24 and 25.)" ("...every male in the city was circumcised. ...all of them were still in pain..."). W.D.B. does not specify which half.

Further north in Philadelphia, the Times and Register has a little dig at the Southern accent and doubts that "the colored voters of the country" would support mandatory genital cutting. It considers the aesthetic argument "na´ve" though it goes on to say that genital cutting "approximat[es] them more nearly to the ideal physical man."

Dr P C Remondino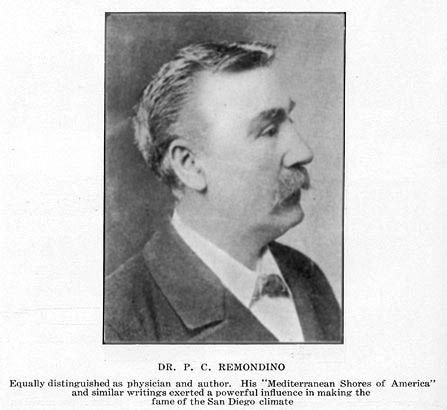 Peter Remondino was a San Diego doctor who specialized in respiratory ailments. He is single-handedly responsible for the meme still current today, that the foreskin was useful when we ran naked through the brambles, but no longer is today.


H I S T O R Y
OF
CIRCUMCISION

FROM THE EARLIEST TIMES TO THE PRESENT

MORAL & PHYSICAL REASONS FOR ITS PERFORMANCE
WITH A
HISTORY OF EUNUCHISM, HERMAPHRODITISM, ETC., AND
OF THE DIFFERENT OPERATIONS PRACTISED
UPON THE PREPUCE

BY P.C. REMONDINO M.D.
(JEFFERSON)


---
CHAPTER XVIII.

THE PREPUCE AS AN OUTLAW, AND ITS EFFECTS ON THE GLANS
...Puzey, of Liverpool, has found [the foreskin] of extreme value, and even unequaled by any other part of the body, for furnishing skin-grafts,81 .... In advising the use of the prepuce for these purposes it must not be overlooked that in case of a white man it would not do to use skin of any other color besides his own. We have no data to base any assertion as to the relative action of skin-grafts taken from Mongolians or Indians, but we have very reliable data in relation to the proliferating action of those of the negro,82 which induces a growth of epidermis of its own kind; so that preputial grafts from the negro, combining the extra vitality and proliferation of the preputial tissue with the strong animal vitality of the negro, if applied to a white man, might not produce the most desirable cosmetic effects, especially if on one side of the countenance.
The text of the entire book has now been posted on the Project Gutenberg website.

Remondino seriously thought circumcision would reduce rape - and seems to have accepted lynching as axiomatic.
"From our observations and experience in such cases, we feel fully warranted in suggesting the wholesale circumcision of the Negro race as an efficient remedy in preventing the predisposition to discriminate raping [= preferentially raping white women] so inherent in that race. We have seen this act as a valuable preventive measure in cases where an inordinate and unreasoning as well as morbid carnal desire threatened physical shipwreck; if in such cases the morbid appetite has been removed or at least brought within manageable and natural bounds, we cannot see why it should not - at least in a certain beneficial degree - also affect the moral stamina of a race proverbial for the leathery consistency, inordinate redundancy, generous sebaceousness and general mental suggestiveness and hypnotizing influence of an unnecessary and rape, murder and lynching breeding prepuce."
- P.C. Remondino MD, "Questions of the day:
Negro rapes and their social problems",
National Popular Review, Vol. 4,
January 1894, pp. 3-6
Remondino's proposal was supported by several medical journals, including the Maryland Medical Journal and the Boston Medical and Surgical Journal (now the New England Journal of Medicine).